RV Market
Will Continue to Grow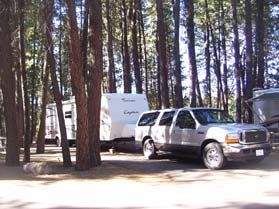 photo by Ivon Babb


RV Market
Will Continue to Grow



Renewed growth predicted for

2008 camping season.



The RV industry will see renewed shipments growth in 2008, and the industry�s long-term prospects look bright, according to Dr. Richard Curtin, Director of Surveys at the University of Michigan. Full Story




News
---
VHS Camping Club Touched by Donation

RV Market Will Continue to Grow



How To
---
Deep Cycle Battery Tips

Internet In Motion

Propane 101



Archives
---
Which Way to Turn



Of Interest
---
Carroll Cave, Carroll River Passage and Thunder Falls

V W future camper

Internet anywhere - even in a moving vehicle

Peterbilt RV



Press Releases
---
Entegra Coach offers Aqua-Hot Hydronic Heating Systems

Outside Hub LLC launches VEEP, brand new online video platform technology

Fleetwood Reports Corporate Developments and Transactions

Live Large, Tow Light with the 2008 Jay Feather by Jayco®

Coachmen's Ultra Lights Offer What RVers Want – and Sales are Booming.



Categories

---
News
How To
Archives
Entertainment
Of Interest
Press Releases
Submit your article or story






Got a pop-up related story or information?
We are always looking for news, how to, and entertainment articles, and press releases. RV Itch visitors come here for many reasons, if you have a story or news you need to share with an active community of pop-up camper owners you can submit via our online submission form.

Submit article or story















Whatever you want to know, just ask. The friendly RV Itch community of experienced RVers is always ready to answer your camping and RV related questions. Visit the forum.